Home Staging
What is it?
Home Staging refers to preparing the property to be shown attractively and pleasantly. It means preparing the home for a potential buyer. It involves redecoration, rearranging furniture, cleaning and other aesthetic strategies to present the home in the best possible light. The goal is to make the home as appealing as possible to the potential buyers. To give spaciousness, a feeling of comfort, and turn a simple house into a cosy family home, walls are painted white and neutral colours are used for the furniture to create a sense of simplicity and minimalism. Studies show that the home buying process largely consists of emotional and unconscious decisions. It has been proven that 90% of the time, approximately the first 90 seconds of viewing a property set the final decision in whether the client buys or rents.
Before and After
Bedroom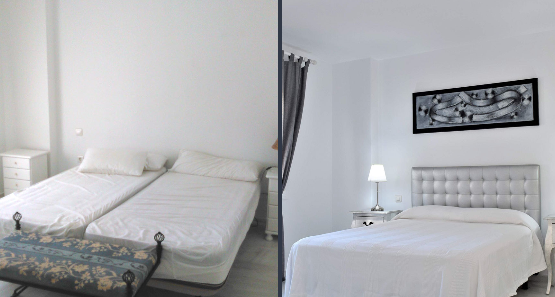 In this example we use light colours, playing with a touch of silver in the headboard and nightstands and contrasting grey curtains with the intense light coming from the window.
Fireplace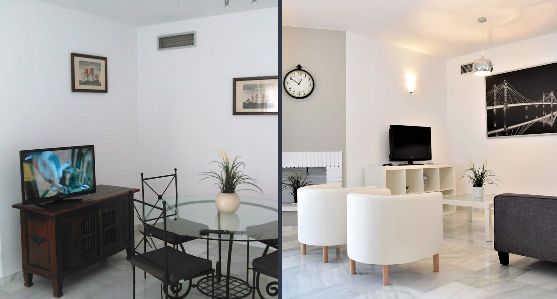 The utmost simplicity, neutral, and soft colours prevail, although sometimes it can be 'broken' with an opposite colour without changing the style established. In this example, the predominant white colour is 'broken' with a dark grey sofa.
Living room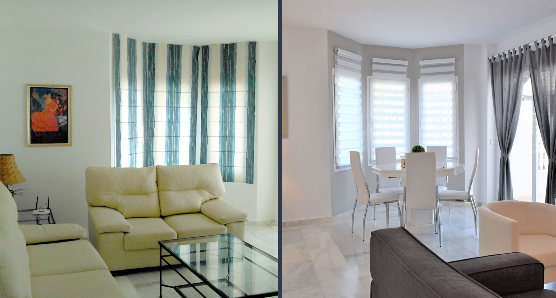 Years ago, spaces were often overloaded with decorative elements, furniture, rugs, wallpaper, etc. Today we have moved from this and enjoy a more spacious look with bright spaces and smooth, symmetrical lines.